What Are the Development Prospects of Bamboo Environmental Protection Tableware?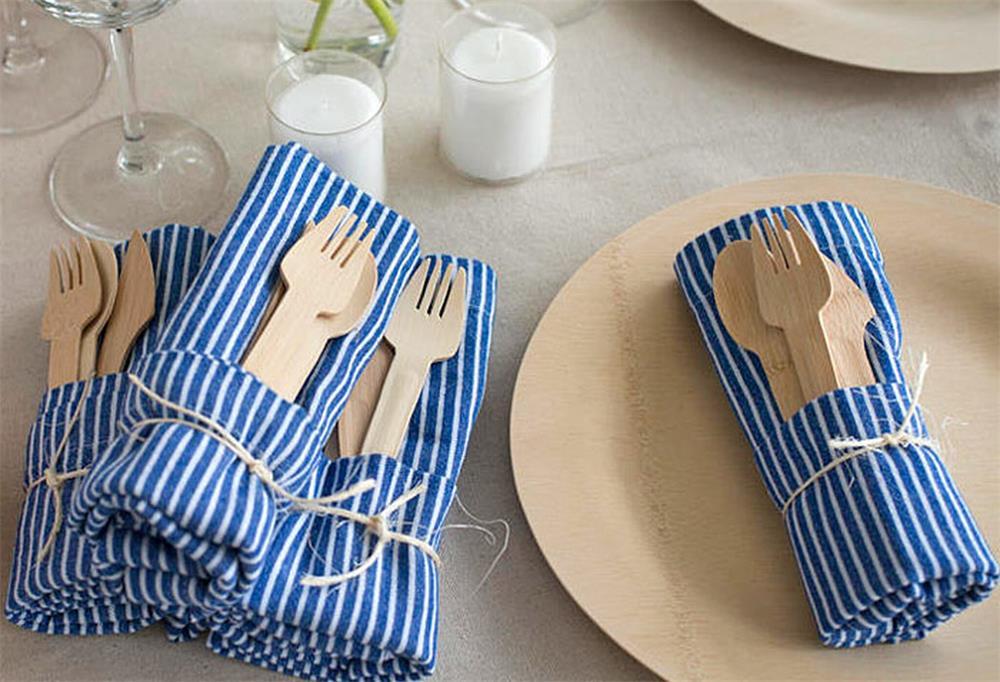 With the release of the "Plastic Ban Order", non-degradable plastic bags, disposable plastic tableware, disposable plastic products for hotels and hotels, express plastic packaging, and other plastic products will be gradually reduced until they are banned, and the countdown to the ban has been clarified.
This is undoubtedly a good opportunity for the bamboo and wood industry. Disposable bamboo products such as bamboo straws and bamboo environmental protection tableware may replace disposable plastic products in the takeaway, milk tea, hotels, and other industries, bringing a huge market to the bamboo products industry.
With the continuous improvement of environmental protection awareness, people have a higher awareness of plastic pollution, and it is imminent to reduce plastic pollution to the environment.
In recent years, China's food delivery industry has been hot, but the amount of plastic waste generated by food delivery is huge. Because behind the growth of takeaway revenue, the use of plastic lunch boxes cannot be ignored. Generally speaking, a takeaway includes lunch boxes, vegetable boxes, even soup boxes, and seasoning boxes. Therefore, the amount of waste plastic generated in the takeaway market is very large.
In the current market, in addition to traditional disposable bamboo products such as disposable bamboo chopsticks and bamboo toothpicks, the disposable bamboo products that everyone has contact with more can be said to be bamboo environmental protection tableware, such as bamboo disposable chopsticks.
Bamboo environmentally friendly tableware is made of bamboo strips, bamboo charcoal, or bamboo fiber. Bamboo tableware can be directly used in microwave ovens, ovens, and refrigerators, and no toxic substances are precipitated. This tableware can be naturally decomposed and absorbed by soil after use.
Among them, because bamboo fiber has the functions of natural antibacterial and natural degradation, it is widely used to make bamboo environmental protection tableware. In recent years, my country's bamboo fiber composite environmental protection tableware has increased to a certain extent in terms of the total import and export volume, total amount, and unit price level.
In recent years, the output of plastic products has fluctuated. In 2019, the national output of plastic products was 81.8416 million tons. Affected by environmental protection policies in 2020, the output of plastic products will decline. From January to August 2020, the national output of plastic products was 46.126 million tons, a year-on-year decrease of 13.3%.
It is reported that in the past few years, the catering industry has developed vigorously, and the demand for disposable lunch boxes in the catering market has risen rapidly. For the milk tea industry, the material of straws is also of great concern.
Taking food delivery as an example, with the continuous penetration of Internet technology, traditional merchants in the field of catering services are actively transforming, the category of food delivery continues to expand, the quality continues to improve, the delivery service continues to optimize, the consumer experience is getting better and better, and the online food delivery market is developing rapidly. It has become an increasingly important new format in the catering industry.
Considering the strong growth in the number of takeaway orders, the booming of the stalled economy, the huge demand for disposable tableware, and the huge market potential for disposable lunch box substitutes, this is where the market potential of disposable bamboo products lies.
In a word, in the context of advocating "low carbon, environmental protection, and ecology", people pay more and more attention to the concept of environmental protection and pay more attention to the quality of life and environmental health. Disposable bamboo environmental protection tableware will be low-carbon, environmentally friendly, safe, and cost-effective Traits usher in important development opportunities.
Although we are in the bamboo and wood products industry, our brand positioning and business philosophy are not attached to the bamboo and wood products industry. We are committed to bringing natural, healthy, and ecological eating habits to our customers, so we position ourselves as an advocate of providing natural foodservice tools, dining tools, and food display tools. Through our innovative product design and natural product materials, we provide traditional catering companies with more attractive food demonstrations or environmentally friendly food packaging solutions. If you want to customize our products, please contact us!